For sailors who subscribe to the philosophy of free and open content.
The Pearson 26 One-Design : 1977–1983

Bill Shaw said "I took our proven Pearson 26 hull, gave her a new deck, moved the shrouds inboard for closer sheeting and voila — I had the perfect boat"
The P26-OD
The Pearson 26 One-Design is in a class by herself - an alternative with the proven characteristics of her sisterships, the Pearson 26 and Pearson 26W. Both her sailing ability and her lines are beautifully balanced. Racing, cruising, day sailing. The best of all world at a price that defies analysis.
theBoat
For some time now I've been wondering why there are no boats designed to appeal to the one design racer and the day sailor who's ready for cruising accomodations. The sailor I'm talking about is that type who doesn't want to give up round-the-buoy racing or have quick after supper before sundown sails.
I figured there are hundreds of good sailors out there who can't afford a full blown cruising boat or don't want one because of the nature of the sailing they do. You know what I mean... probably day sailing, a few overnights, and a schedule of club racing. This kind of activity doesn't call for an expensive boat with all the amentities of an offshore cruiser. Rather it calls for a nice compromise between a performance one-design and an easily managed family cruiser... a beautifully finished boat with a big cockpit and low profile that still sleeps four and has provisions for a head and a galley.
So I took our proven Pearson 26 hull, gave her a new deck, moved the shrouds inbound for closer sheeting and wallah… I had the perfect boat. Its everthing you need at a desireable price. Give the Pearson 26 OD some thought. Mention it to your friends at the club, start a fleet, Come Sail With Us…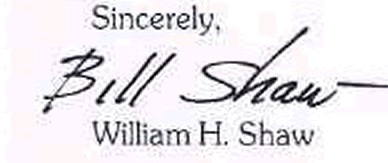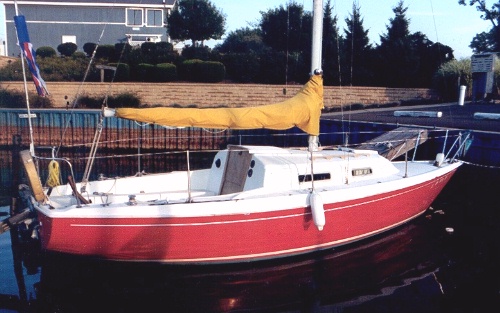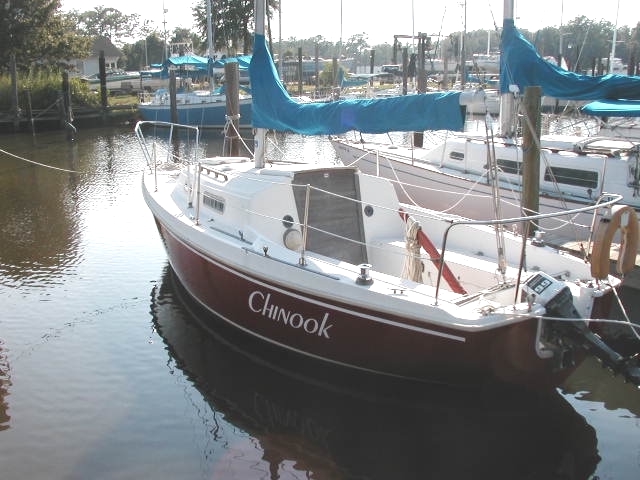 ---
Pearson 26 – By The Numbers
Specifications*
LOA (Overall Length)
26.17' [7.98 m]
LWL (Waterline Length)
21.67' [6.61 m]
Beam
8.67' [3.12 m]
Draft
4.0' [1.22 m]
Displacement
5,200 lbs [2449 kg]
Ballast
2,200 lbs [998 kg]
Sail Area
321.78 sq ft [44.4 m²]
Mast Height (above D.W.L.)
35.16' [10.72 m]
Cockpit Length
8' 11"
Auxillary Power
Outboard
Foretriangle Area
184.28 sq ft
Mainsail Area
137.5 sq ft
I – Foretriangle Height
31.5'
J – Foretriangle Base
11.7'
P – Mainsail Hoist
27.5'
E – Mainsail Foot
10.0'
*approximations from Pearson Yachts
Technical Data
| | |
| --- | --- |
| Designer | Bill Shaw |
| Years Built | 1978 – 1983 |
| Hull Speed | 6.24 kn |
| SA/D – Sail Area to Displacement | 16.74 |
| DLR or D/L – Displacement to Length Ratio | 237 |
| BR – Ballast Ratio | 40.75% |
| L/B – Length to Ballast | 2.99 |
| LWL/B – Waterline Length to Ballast | 2.48 |
| OR – Overhang Ratio | 21% |
| CSF – Capsize Screening Formula | 1.99 |
| MCR – Motion Comfort Ratio | 19.95 |
| M/F – Main to Foretriangle Ratio | 184 |
| PHRF – Performance Handicap Rating | 210 (average) |
---
---
Pearson Yachts Brochure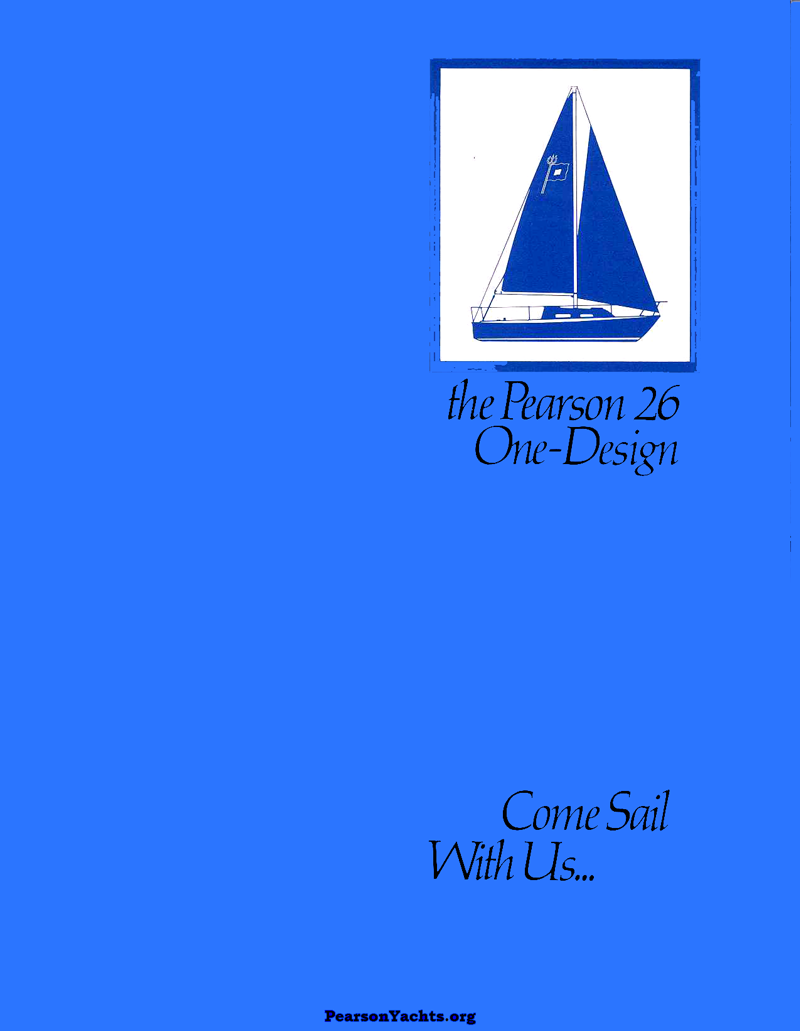 Page 1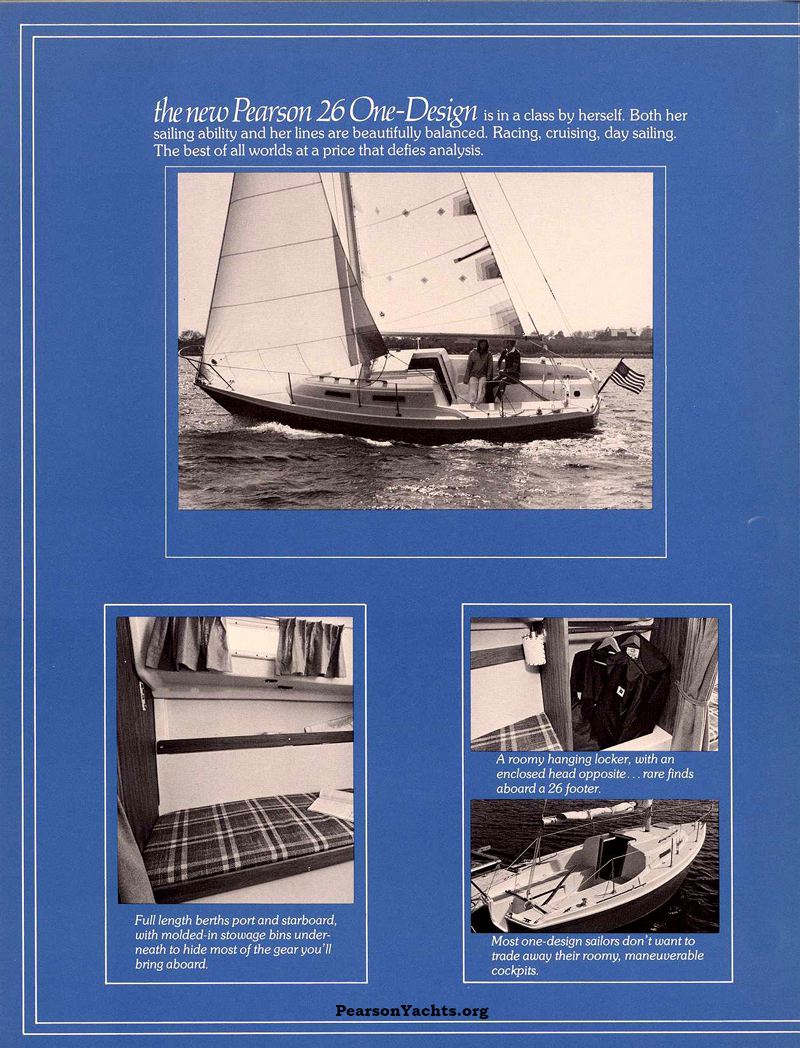 Page 2
---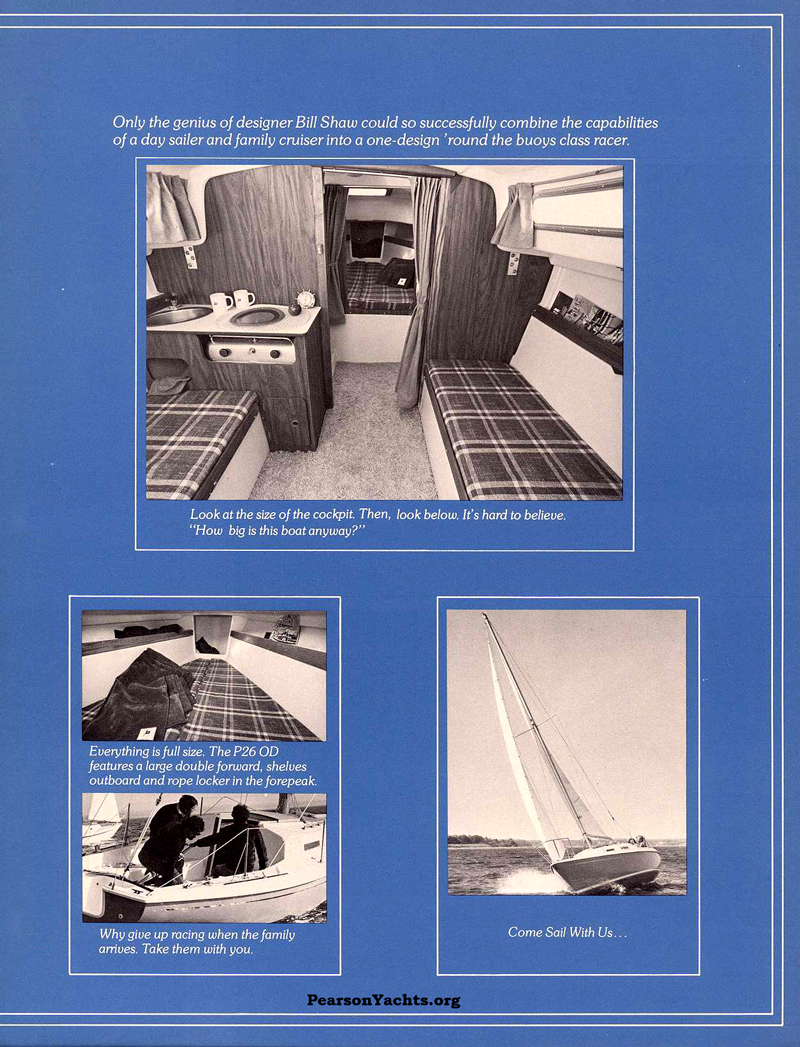 Page 3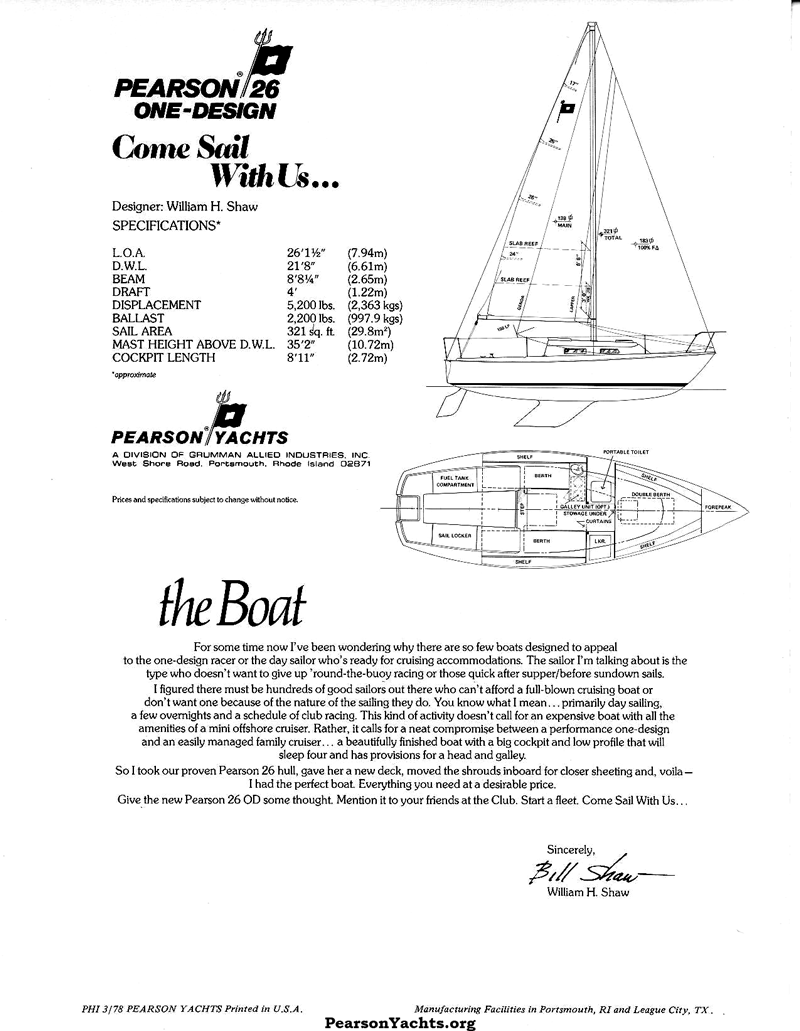 Page 4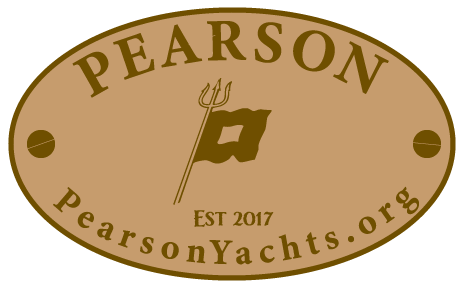 ---