Pearson Yachts Portal
The Pearson Hawk : 1962–63

Add water and wind and Hawk becomes as frisky as a young colt...
---
Sleek, saucy day-sailer!
Add water and wind, and Hawk becomes as frisky as a young colt. Snug in the sheet to capture the breeze and she skims across your favorite bay like a bird in flight. Hawk was designed to add new dimensions to your family's day-sailing pleasure. She's lovely to look at, a joy to sail, and requires only a minimum of care. The happy blending of her straight sheer and reverse transom reflects the design latitude and beauty of fiberglass.
The sleek little Alberg-designed centerboard sailor is packed with versatility she's large enough for the family, fast enough for stiff competition. The non-skid deck (blue or green) with roomy cuddy cabin is integrally molded to the strong white hull. You'll appreciate the large, comfortable cockpit; the feeling of added safety through positive flotation; the "kick-up" rudder to facilitate beaching; and big-boat features like aluminum spars and roller reefing. Many options for even greater pleasure and convenience.
Standard Equipment
Molded-in, non-skid, deck pattern (blue and green)
Positive flotation
Roller reefing
Sails: Mainsail and jib, Dacron
Standing rigging: stainless steel
Running rigging: Dacron
Centerboard: streamlined design
Rudder 'Kick-up" type
Rub rail: White vinyl
Fittings, cleats, and blocks best quality salt water tested and approved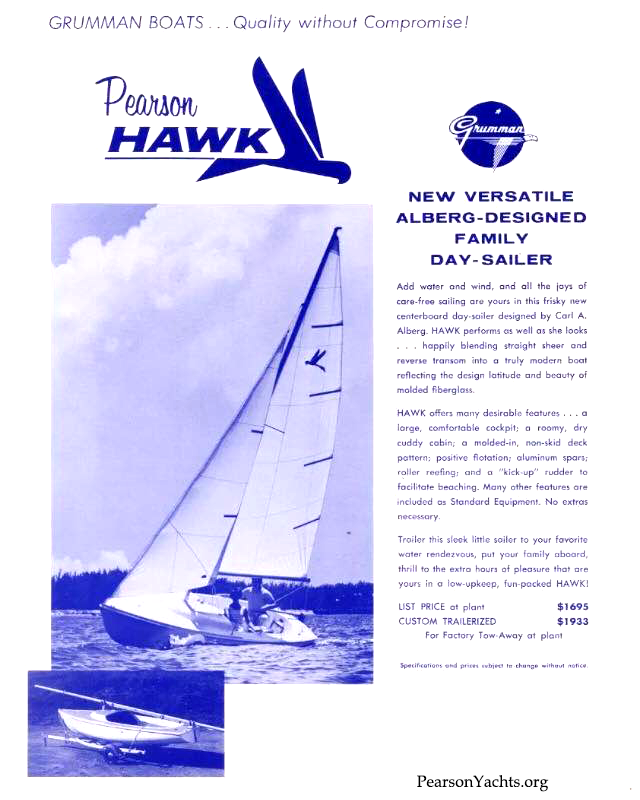 ---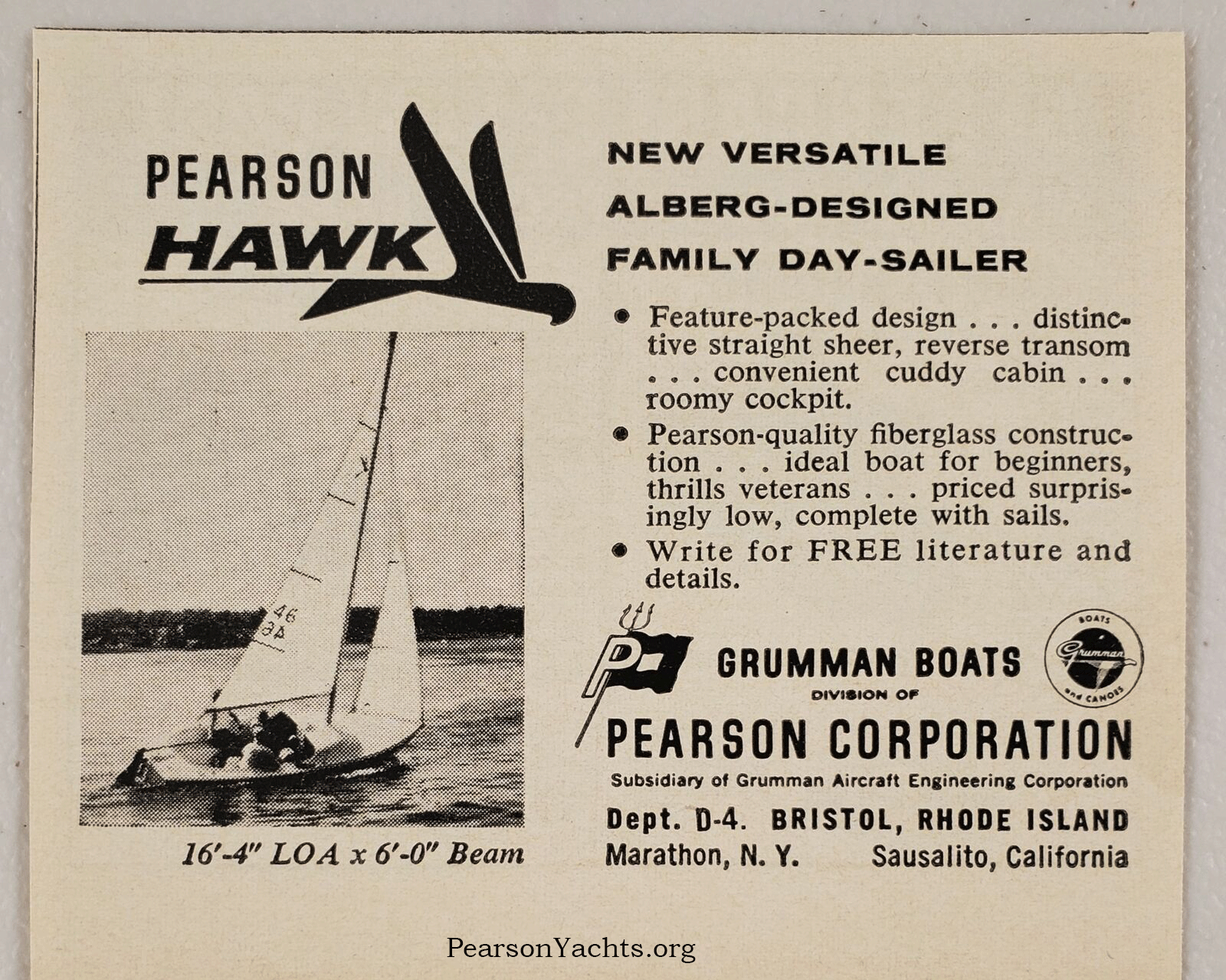 Specifications
| | |
| --- | --- |
| LOA | 16' 4" |
| LWL | 13' 0" |
| Beam | 6.0' |
| Draft | 0' 6" ⁄ 3' 7" |
| Displacement | 575 lbs ⁄ 875 lbs |
| Sail Area | 115 Sq Ft |
| Rig Type | Fractional |
| Web Resources | PearsonInfo |
| Web Resources | SailboatData |
---
Pearson Hawk Brochures
Click to enlarge
---