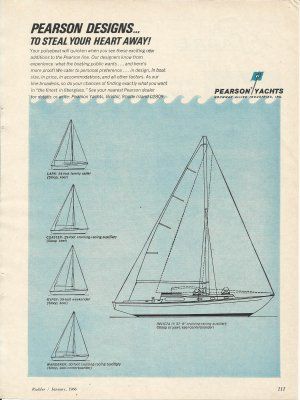 Pearson Sailboats
Table of Pearson Sailboat Models by year
From 1958 to 1991 Pearson produced numerous models of Sailing Yachts in addition to power boat production. In the very early designs, including the breakthrough Triton, Pearson Yachts contracted with independent designers under several familiar names such as: Carl Alberg, Philip Rhodes, William H. Tripp Jr, and Bill Tritt. In 1964 Bill Shaw was brought in to start an in-house design team with the vision of developing Pearson Yachts as a brand which would become a worldwide leader in the "Golden Age" of Coastal Cruisers for working-class sailor.
Key to Sailboat Table:
Model – Model Name and Link to Brochure or Image (if available)
LOA – Length Overall, the maximum length in feet, of a vessel's hull measured parallel to the waterline.
DISP – Displacement, the vessel's weight in lbs, calculated from the volume of water displaced by it.
D/L – Displacement to Length Ratio*
SA/D – Sail Area to Displacement Ratio*
Comments – Designer or Boat Options
Production – Approximate years and number produced
Website – Model/Owners Home Page
Note 1: Specifications are approximate from Pearson Yachts
Note 2: When viewing PDF files use "page" view to fit to screen and "zoom +" to read fine print.
*Definitions provided by Bill Shaw on the
design
page
A dedication to quality makes our business your pleasure – Pearson Yachts Inc.